Awixa.com
Penataquit Point History
Click Below to View our Neighborhood's Historic Homes and their histories
S. Awixa Avenue Historic Homes S. Penataquit Avenue Historic Homes S. Montgomery Avenue Historic Homes
South Country Road (work in progress)
Saxon Avenue (Just east of Penataquit Point - rich with history) (work in progress)
This website is dedicated to the history of "Awixa" Long Island as well as the historic homes remaining on South Awixa Avenue and its surrounding area in Penataquit Point. This is a work in progress which will ultimately show pictures and histories of the historic homes on South Awixa Avenue and then later the surrounding avenues and streets of Penataquit Point. The website will be describing the history of the area called "Awixa", which the author believes was the original (Indian) name of the eastern point of Bay Shore. (Effectively Bay Shore's earliest name.)
In 1880 through 1888 Daniel D. Conover at great financial risk purchased much of the land between Saxton (now Saxon) Avenue and South Awixa Avenue. He dredged the rivers between (Orowoc, Champlin's and Awixa) improved the roads and built Queen Ann Style cottages for rent. Conover's plan for Awixa Creek was to create a freshwater lake at the northernmost point at South Country Road (now Main Street) with a dam which would have a road on it connecting Saxton and Awixa. In 1887 the project was completed without the road which was never done. Mr. Conover who was known for his beautiful roads (the Town's were horrible). Conover built a beautiful house for himself on Saxton Avenue. William H. Moffitt later purchased (1906) land from Conover's estate the best being Olympic Park. (Along the Great South Bay by Harry W. Havemeyer)
The southernmost point of South Awixa Avenue is known as Penataquit Point now and Thurber's Neck previously. A Thurber's Neck Club existed in the late 1800's.
Penataquit Point (southern tip) in the Mid 1950's-Click here to enlarge
Here the first Moubray (later changed to Mowbray) family lived in the early 1700's. It was reached by three roads from South Country Road (later called Montauk or East Main Street). Awixa Avenue being one, Montgomery Street and Penataquit Avenue the other two. 1st Court, 2nd Court, and South Court were added between the avenues.
During the 1880's the area became known for its New York Brooklyn residents who moved to and owned or rented here. Early residents included E.P. Jones, W. Wiswall, Dr. J.V.S. Wooley, William Wray and Albert Young. On the northernmost part on the corner of Awixa and South Country later lived E.F. Hutton

and next to him to the east "Woodlea" of Thomas Adams Jr. and J. Dunbar Adams (American Chicle Company). This area became the home of the Penataquit Corinthian Yacht Club in 1900. Under the stewardship of Commodore J. Adolph Mollenhauer many of the most prestigious and affluent people in the New York area became members.
The J.D. Adams Estate - Woodlea
The J.D. Adams Estate - Woodlea was next to the E.F. Hutton Estate, both of which were the northernmost houses on South Awixa/North Country/E. Main Street) on the north side of the Awixa Pond which lay just north of the Awixa River. It later became Mimi's Awixa Ponds Restaurant. Damiano Maffei, known as Mimi, had a restaurant on Fulton Street in downtown Brooklyn. He always had a wad of cash in his pocket and he bought an Edsel in the 1950s. Mimi was a gambler who won the Adams (chewing gum) mansion in Bay Shore, Long Island in a two-day crap game. First he won the manís money, then his wifeís furs and jewels, and finally the property. When the game was over Mimi gave the man back his wifeís diamond ring but kept all the rest. This is one of the family stories that may be exaggerated, however Mimi did indeed own a 36-room mansion in Bay Shore that even had a carriage house and a man-made lake with a little island in the middle. The upstairs was the home where he lived with his wife Tootsie and their two sons. He converted the downstairs into the Awixa Ponds, a restaurant with many dining rooms. (Ancestry.com). This beautiful residence later burned down under suspicious origins and the Windemere Pond Condo's now exists there. Click here for more history of the J.D. Adams Estate.
Neighbors on surrounding streets included Simon Rothschild (A&S Department Stores), Edward Blum (A&S Department Stores), August Belmont Jr., Harry O. Havemeyer, and The Doxsee Family (also James Harvey Doxsee). On Montgomery Avenue the home of Robert E. Montgomery - Real Estate Broker and Developer lived Robert A. Pinkerton - son of the founder of the Pinkerton Detective Agency who took over Montgomery's home after 10 years.. On nearby Clinton Street resided Charles C. Guilden (Guilden's Mustard).
Below are some pictures thanks to smugmug.com.
Woodlea - J.D. Adams Estate
__________________________________________________________________________________________________________________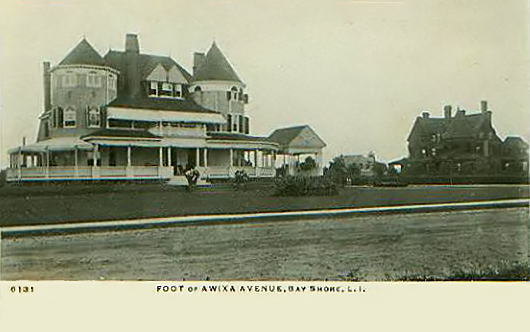 Click on above for history of the Julian Douglas Fairchild house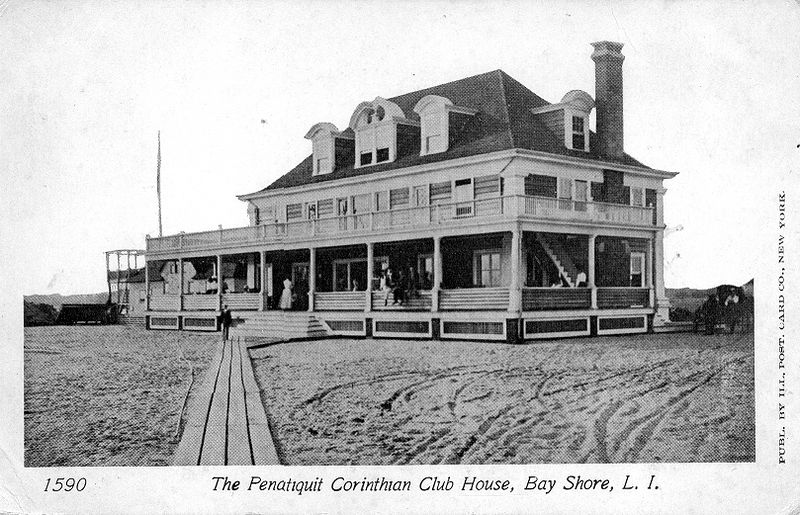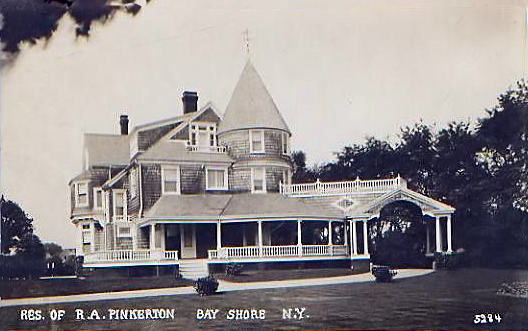 Summer home of Alan Pinkerton
Click Below to View our Neighborhood's Historic Homes and their histories
S. Awixa Avenue Historic Homes S. Penataquit Avenue Historic Homes S. Montgomery Avenue Historic Homes
In Memoriam:
Official List compiled from the New York World War I Honor Roll
published by the Adjutant General Kineaid, 1919
http://freepages.genealogy.rootsweb.com/~blkyn/Military/WW1/WW1.Suffolk.html
Yeandle, Ernest H, Awixa Ave., Bay Shore. Pvt., Cac Co., 2d Bn.,Warfare Ser. Died of broncho pneumonia, October 4, 1918
Lots of Bay Shore and local area pictures here!
If you live in the Penataquit Point area and wish your homes history to be listed here:
Contact 

theawixaking at gmail.com

. (Please type the address replacing the at with @)
Link: (South) Penataquit Civic Association
Bay Shore - Brightwaters Community Bulletin Board
Bay Shore Historical Society
The Summit Council of Brightwaters - Bay Shore
Awixa Creek Estates (now Windemere)
Bay Shore - Brightwaters Beautification Society
Second Avenue Firehouse - An historic restoration and gallery
The Kiwanis Club of The Islip's - Bay Shore

Comments and suggestions contact:

J

oe at Awixa.com



Updated
January 8, 2008